SESSION BLOG
EXPERIMENTAL COMPOSITION & PERFORMANCE WITH
ELI KESZLER
04/04/2018
In early April 2018, after almost two years of preparation, renovation and planning, the honour of the inaugural session at CAMP fell to NYC composer, percussionist and installation artist Eli Keszler and a small group of intrepid musicians and sound artists from around the globe - participants came from France, Ireland, UK, USA, Austria, Sweden and Australia. Over five days, the group worked through a vast array of different approaches to experimental music-making, combining classroom sessions with individual tuition, discussion, listening and project development. An average day: breakfast, plenty of pastries and coffee, then a morning session in the loft classroom. Lunch in the garden bathed in warm spring sunshine, followed by individual meetings and work time in the afternoon - installations begin to appear around the building and grounds, performances and new works take shape. Dinner at the local restaurant (infinite quantities of wine, of course) followed by music and drinks in the library (subsequently temporarily christened the "Suze lounge") until the early hours.
On the final day, installations were exposed throughout the building, and the evening saw the performance of several new works including Heloise Tunstall-Behrens' multichannel drone/vocal work specifically timed to sound with the village church bells, a poignant violin duet by Aurelie Ferriere and Craig Cox, Peggy Nelson's spoken ensemble piece on the mountain-view balcony and Alexandra Nilsson's hypnotic performance using traditional Ariegoise slates as a resonant sound source.
Feedback from the session:
"It was a really great experience, and I genuinely feel like I've made a big leap in terms of understanding my own practice because of it."
"Had such a brilliant time! Thanks to James, Sarah & Eli. Loved the group and hope to come back to CAMP again in the future."
"Had an absolutely tremendous time doing a residency at @camp_fr in the French Pyrenees this past week. Well worth exploring! Thanks to James, Sarah, Alison for their passion and dedication; @elikeszler for great ideas/inspiring chats and @auscouncilarts for the funding support."
Alexandra Nilsson performance
Classroom session
Lunch in the spring sun
Installation by Nikki Sheth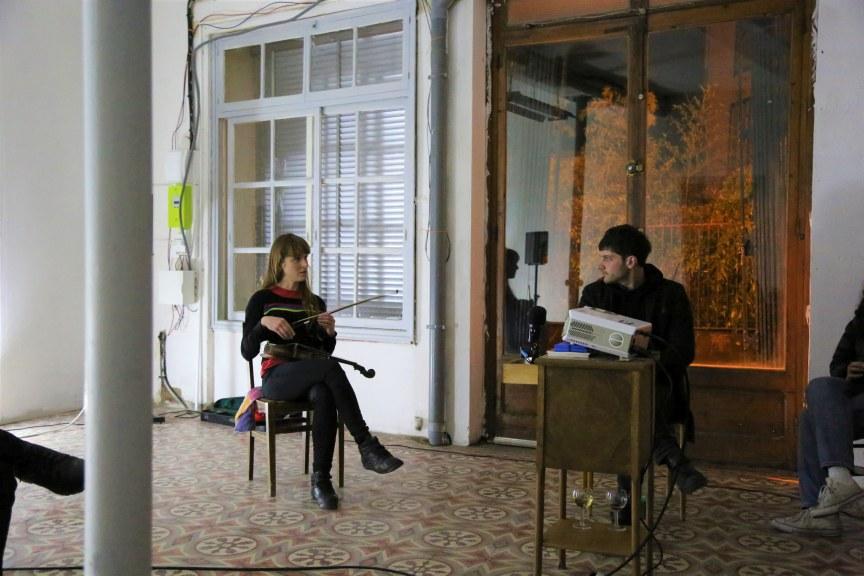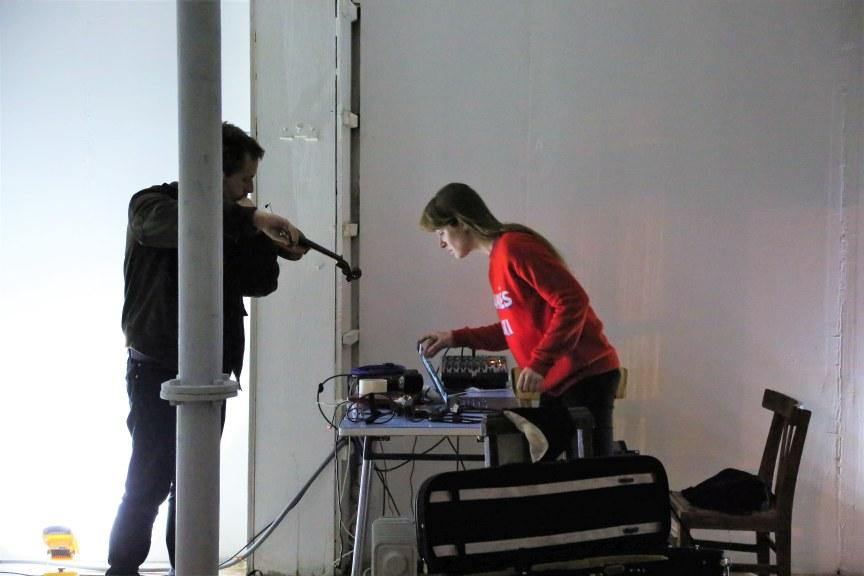 Violin duet by Aurelie Ferriere and Craig Cox
Alumni
: Heloise Tunstall-Behrens | Manuel Riegler | Andrew Tuttle | Emily Nam | Margaret Nelson | Craig Co | Nikki Sheth | Aurelie Ferriere | Alexandra Nilsson | Tony Dupe |