CURRENT STRATEGIES FOR IMPROVISATION AND COMPOSITION WITH
ELLIOTT SHARP
STARTS 2022-05-04
SIMILAR COURSES: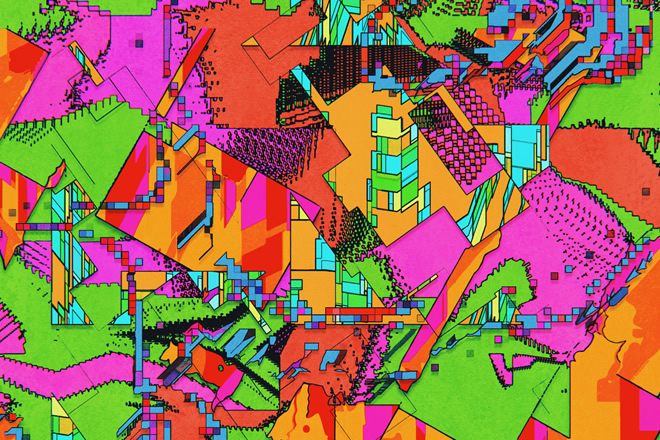 2023-06-21 | 3 PLACES LEFT
AUDIOVISUAL COLLABORATION: BUILDING & PERFORMING WITH KONX OM PAX AND HAMILL INDUSTRIES
THE BASICS
Six nights accommodation in a private room with mountain views
Five full days of teaching, workshops, discussions, activities and use of our excellent arts facilities
All inclusive - breakfast, lunch, dinner, snacks and drinks included
All dietary requirements catered for - vegetarian, vegan, gluten-free, allergies - no problem
HIGHLIGHTS
Live, work and study for five days with one of the most forward-thinking musicians working today
Explore new strategies for composition and improvisation, developing new approaches to your existing practice or exploring completely new areas
Surpass creative blocks, build your array of musical tools and push your writing and playing to the next level
Release of your work on our in-house label, and performance opportunities at Fuse Art Space
Unlimited use of our recording facilities, arts library, digital editing suites and other facilities
Optional mountain expeditions including ascent of Mont Ceint and the spectacular Cascade d'Ars
BOOK NOW
This is an intense, five-day workshop intended to expand the source materials for use by improvisers and composers to extend outside the normal range of approaches, lead by American multi-instrumentalist, composer, and performer,
Elliott Sharp

.
A central figure in the avant-garde and experimental music scene in New York City for over 30 years, Elliott has released over eighty-five recordings ranging from orchestral music to blues, jazz, noise, no wave rock, and techno. He leads the projects Carbon and Orchestra Carbon, Tectonics, and Terraplane and has pioneered ways of applying fractal geometry, chaos theory, and genetic metaphors to musical composition and interaction.
His collaborators have included Radio-Sinfonie Frankfurt; Debbie Harry; Ensemble Modern; Nusrat Fateh Ali Khan; Kronos String Quartet; Ensemble Resonanz; cello innovator Frances Marie Uitti; blues legends Hubert Sumlin and Pops Staples; pipa virtuoso Min-Xiao Feng; jazz greats Jack deJohnette, Oliver Lake, and Sonny Sharrock; multimedia artists Christian Marclay and Pierre Huyghe; and Bachir Attar, leader of the Master Musicians Of Jajouka.
Over the course of five days, working both at our facility and out in the landscape, the workshop will explore concepts including:
Biomorphism and Natural Models As Compositional Inspiration and Strategy: Fireflies and flocking birds, RNA replication, Fibonacci numbers, fractals, and cellular automata and other natural forms and processes all present useful models for structure and development.
Algorithmic and Self-Organizing Systems: Genesis and development of Sharp's compositions 'SyndaKit' and 'Flexagons': music as permutational organism.
New approaches to graphic notation: 'Foliage', 'Mare Undarum', and 'Sylva Sylvarum' represent current strategies in the synesthetic based on processing of modulation, filtering, layering and inverting the score itself to create work that is retinal art but also provides a score to the performers.
Socio-Acoustics - Soundmaking in the Real World: A complex of equations with many hidden variables make up human interaction and the production and perception of music. This will be fodder for discussion of the process of improvisation.
WHERE AND WHEN?
0
HOW TO BOOK
To book your place on the course, click the button in the green section above.
You won't pay anything right now
- we'll send you a booking confirmation email with everything you need to know next. Your place is reserved without payment for three days.
You'll find a payment link in the booking confirmation email - follow the link to make a payment (either in full, or the first payment of a month payment plan). In the latter case, a monthly payment plan will be put in place, so your card will be charged 1/ of the fee today, and 1/ each month (on the same day) for an additional -1 months. All card payments are handled by Stripe, and are extremely secure. We don't store any card data ourselves - all of this is handled securely off-site by Stripe. If you have a discount or grant code, you will be able to add it when you follow the payment link in your confirmation email.
Once you've made a payment, you'll receive another email containing your receipt, links to resources, contact information and access to our group chat to discuss the workshop with other participants.
INCLUDED IN THE COURSE FEE: SIX NIGHTS ACCOMMODATION, AND FIVE DAYS OF CLASSES AND ACTIVITIES, A COMFORTABLE PRIVATE ROOM, ALL MEALS (ALL DIETS CATERED FOR), POST-COURSE BENEFITS & SUPPORT (SEE BELOW)
NOT INCLUDED IN THE COURSE FEE: TRAVEL
STUDENT LEVEL: OPEN TO ALL
EQUIPMENT REQUIRED: NONE REQUIRED
POST-COURSE SUPPORT: PERFORMANCE AND INSTALLATION OPPORTUNITIES AT FUSE ART SPACE, CONSIDERATION OF WORK FOR DIGITAL & PHYSICAL RELEASE