FREE RADIO PYRENEES WITH
MAGZ HALL AND ANDREW O'CONNOR
STARTS 2023-07-26
SIMILAR COURSES: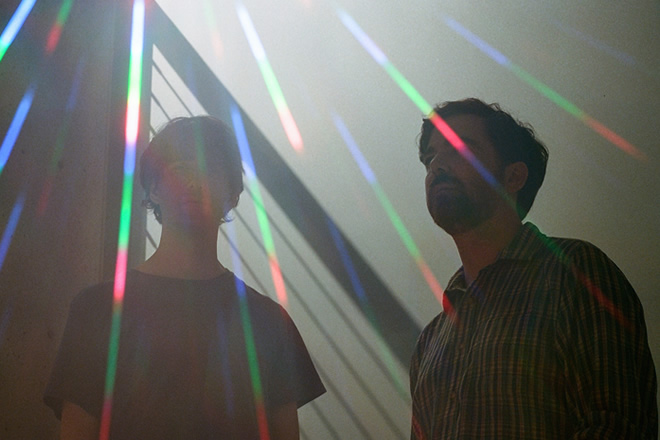 2023-10-25 | 3 PLACES LEFT
HYPERREAL ENVIRONMENTS, KANKYO ONGAKU AND COMPOSING BEYOND THE SELF WITH VISIBLE CLOAKS AND YOSHIO OJIMA
THE BASICS
Six nights accommodation in a private room with mountain views
Five full days of teaching, workshops, discussions, activities and use of our excellent arts facilities
All inclusive - breakfast, lunch, dinner, snacks and drinks included
Return transport from Toulouse included
HIGHLIGHTS
Explore the practice and history of radio art and pirate broadcasting with two of the most experienced radio artists working today
Technical sessions examining pirate FM broadcast techniques
Make open wave receivers (as devised by Shortwave Collective) to listen into the radio spectrum and to see how air pollution and weather effects signal
Post-workshop broadcast, release, performance and touring opportunities
Unlimited use of our recording facilities, arts library, digital editing suites and other facilities
Optional mountain expeditions including ascent of Mont Ceint and the spectacular Cascade d'Ars
BOOK NOW
Free Radio Pyrenees
is an intensive course on the artistic possibilities of radio transmission and reception, exploring different means of engaging with the radio frequency spectrum that surrounds us, with the goal of collectively creating a site specific pirate radio installation at CAMP, broadcasting to the surrounding community and beyond.
Working with several different types of transmitters and receivers, we'll explore how to use radio transmission in artistic contexts like sound design for theatre/opera, sculpture, art installations, generative sound works, and long range pirate broadcasts. Alongside hands-on experimentation with different types of radio transmitters we will explore the history and context of pirate, community and free radio in Europe and North America, as well as different approaches to extended radio practices and techniques.
By looking at works that are rooted in radio but extend beyond standard broadcast forms into ideas of modern composition, field recording and acoustic ecology Free Radio Pyrenees will not just empower participants with the practical means to engage with the radio frequency spectrum, but provide them with the tools, techniques, and historical perspectives to create something new with it.
Alongside these explorations of broadcast, Magz will lead the group in the use of Open Wave Receivers to pick up air, land and water pollution in the Pyrenees and beyond.
Over the course of five days we'll install and operate a pirate radio station at CAMP that will broadcast to the village of Aulus-les-Bains and beyond over the FM dial. This pirate radio signal will not only serve as a platform for work created through the program, but also provide hands on experience in the set up and operation of a pirate radio station. Participants are encouraged to create works for broadcast, or further develop existing projects using an array of different transmitters and receivers, engaging both the physical landscape, and the ether that surrounds us. What ends up being broadcast will be a direct reflection of the people who participate, and the community we broadcast to.
Andrew O'Connor is an independent radio producer and sound artist based in Toronto. His work reflects an interest in sound, storytelling, and transmission, and explores these ideas through formal broadcast radio as well as installation art, sound design, and pirate radio. Andrew's work has been featured across the CBC Radio network, syndicated internationally, and appeared at Radiophrenia in Glasgow, and the UK International Radio Drama Festival.
Magz Hall

is an Oram Award-winning sound and radio artist whose work has been exhibited in the UK and internationally, including at Yorkshire Sculpture Park, British Museum, Tate Britain, The Sainsbury Centre, Whitechapel Gallery, Barbican, the V&A, Jerwood Visual Arts, and MACBA Barcelona, as well as events and exhibitions in Denmark, Italy, Germany, Norway, Morocco, Canada and the USA.
Much of Magz's work is concerned with art for the environment and the future uses of radio inspired by 100 years of international radio art practice, drawing on her practice-based PhD "Radio After Radio: Redefining radio art in light of new media technology through expanded practice" at UAL London.
Her radio installation "Waves of Resistance" for Galway 2020 paid tribute to Galway Women's pirate radio and radio across borders - the work was nominated for an Ivor Novella award in sound art in 2021.
A founder of London arts station Resonance FM and community radio in the UK, Magz is a senior lecturer and radio/sound art specialist at Canterbury Christ Church University in the School of Arts and Industries, and is currently course director of its Film, Radio and Television BA. She founded Radio Arts having curated works for exhibition, broadcast, and led numerous hands-on workshops with the public in arts spaces and leading galleries such as the V&A, Tate Britain and Manchester Science Museum. She has been a practicing sound artist since 1998, creating interactive artworks for galleries and public spaces, from large-scale events and broadcasts to intimate sound and radio installations.
Magz has pushed the boundaries of multi-disciplinary interactive sound and radio art, creating expanded radio art works and multimedia work which includes hand building transmitters on self-broadcasting ceramic, trees and books. Tree Radio, a broadcasting tree made for the Yorkshire Sculpture Park and her Voicing Gender radio hats were exhibited at the Mutek Festival Montreal and the Barbican London in 2017. Her work uses a wide range of techniques to make connections between the public, using radio and wireless technology in all its forms across the spectrum.
Andrew O'Connor's work in radio dates back some twenty years, and extends beyond standard broadcast forms, this work has been presented at festivals across North America including Megapolis in Baltimore, the Third Coast Filmless Festival at the Chicago Museum of Contemporary Art, the Vancouver New Music Festival, and La Grande Rencontre des arts Mediatiques en Gaspesie. Andrew has been a visiting faculty member at the Banff Centre for the Arts, received a commission from the Klondike Institute for Art and Culture for their yearly thematic series, The Natural & The Manufactured, and had his work included in the anthology Transmission Arts: Artists and Airwaves". He most recently presented a site specific sound installation for FM transmitters with Lanchonete in Sao Paulo Brazil that premiered as part of a citywide celebration of the Centenary of Modernist Architecture in October 2022.
Andrew currently hosts and produces a weekly pirate radio show called DISCO 3000 on his long running, clandestine radio project Parkdale Pirate Radio.
WHERE AND WHEN?
The course takes place at our residential centre in Aulus les Bains. It's two hours south of Toulouse, high in the French Pyrenees, very near the border with Spain. For detailed travel information, see the
transport
section. The course starts on Wednesday, July 26, 2023. We advise that you arrive the evening before (25/07/2023) - dinner and accommodation that night is included. The course runs for five days, ending on Sunday night. Accommodation on Sunday night is included, then we leave on Monday morning (31/07/2023). If you decide to take the minibus with us, you will be picked- up in Toulouse at 6pm on 25/07/2023, and will be back in Toulouse at 11am on 31/07/2023.
HOW TO BOOK
To book your place on the course, click the button in the green section above.
You won't pay anything right now
- we'll send you a booking confirmation email with everything you need to know next. Your place is reserved without payment for three days.
You'll find a payment link in the booking confirmation email - follow the link to make a payment (either in full, or the first payment of a month payment plan). In the latter case, a monthly payment plan will be put in place, so your card will be charged 1/ of the fee today, and 1/ each month (on the same day) for an additional -1 months. All card payments are handled by Stripe, and are extremely secure. We don't store any card data ourselves - all of this is handled securely off-site by Stripe. If you have a discount or grant code, you will be able to add it when you follow the payment link in your confirmation email.
Once you've made a payment, you'll receive another email containing your receipt, links to resources, contact information and access to our group chat to discuss the workshop with other participants.
INCLUDED IN THE COURSE FEE: SIX NIGHTS ACCOMMODATION, AND FIVE DAYS OF CLASSES AND ACTIVITIES, A COMFORTABLE PRIVATE ROOM AT CAMP, ALL MEALS (ALL DIETS CATERED FOR), UNLIMITED USE OF OUR RECORDING EQUIPMENT, EDITING SUITES, REHEARSAL STUDIOS, LIBRARY AND OTHER FACILITIES, POST-COURSE BENEFITS & SUPPORT (SEE BELOW)
NOT INCLUDED IN THE COURSE FEE: TRAVEL
STUDENT LEVEL: ALL WELCOME
EQUIPMENT REQUIRED: NONE REQUIRED, BUT A PORTABLE RECORDER, LAPTOP AND HEADPHONES WILL BE USEFUL.
POST-COURSE SUPPORT: BROADCAST OPPORTUNITIES ON CAMP RADIO; RELEASE OPPORTUNITIES VIA CAMP EDITIONS; EXHIBITION, PERFORMANCE AND INSTALLATINO OPPORTUNITIES AT FUSE ART SPACE AND ACROSS OUR NETWORK OF PARTNER VENUES; ONGOING SUPPORT OF YOUR PROJECTS FROM THE CAMP ORGANISATION.