IT'S NOT US, WE ARE NOT HERE WITH
FAUST
STARTS 2023-05-10
SIMILAR COURSES: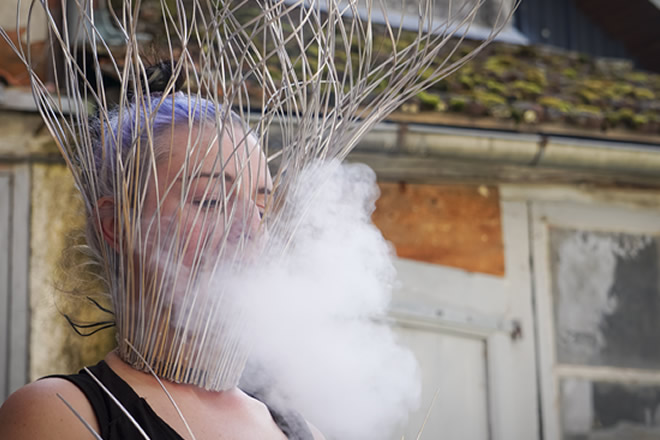 2024-08-07 | 6 PLACES LEFT
MYTHS AWAKENED; PERFORMANCE AND COLLABORATIVE EXPLORATION OF THE SELF WITH ARRAY COLLECTIVE
THE BASICS
Six nights accommodation in a private room with mountain views
Five full days of teaching, workshops, discussions, activities and use of our excellent arts facilities
All inclusive - breakfast, lunch, dinner, snacks and drinks included
Return transport from Toulouse included
HIGHLIGHTS
Spend five days playing, listening, talking and experimenting with Jean-Hervé Péron and Amaury Cambuzat
Combine on-site work at CAMP with site-specific work in the spectacular mountains and forests of the Pyrenees
Unlimited use of our recording facilities, arts library, digital editing suites, performance spaces and other facilities
Optional mountain expeditions including ascent of Mont Ceint and the spectacular Cascade d'Ars
BOOK NOW
The legend of
Faust

- the commune at Wümme, the drugs and naked donkey rides, the London breakthrough, the pneumatic drills and periods of "disappearance" - is almost as large as the music. But not quite - Faust's opus, from their explosive eponymous debut in 1971 to "Punkt", the missing album finally released last year, is one of the heaviest, most epic influences on modern rock, electronic, noise and DIY experimental music.
This unique workshop will be led by Faust founder Jean-Hervé Péron and Amaury Cambuzat, founder of the band Ulan Bator, and faUSt member since 1996.
Jean-Hervé Péron was born in Morroco, raised in France, learned music (theory, guitar and trumpet) from an early age, and formed various groups (folk, dixie, jazz) throughout his teens. He travelled the roads of Europe and the USA for a number of years, before moving to Hamburg in 1971, where he founded the band Faust. He has been the project's driving force for over fifty years, always keeping the band on a radical trajectory, producing over 30 albums, performing around the world, and giving masterclasses in France, Portugal, Hungary, Poland, Australia, Greece, and China. Jean-Hervé is also the founder of the utopic anarchist get-together
Avantgarde Festival
in his home town of Schiphorst.
French multi-instrumentalist, producer and composer Amaury Cambuzat trained as a classical pianist, attending the Suresnes conservatory before picking up the guitar - it soon became his preferred instrument, and he eventually founded the seminal post-rock band Ulan Bator in 1993. The band recorded their eponymous debut in a disused chalk mine, and began their long-standing relationship with faUSt in 1996. In 2012 Amaury created the Let Go Ego Sound Studio, and recently mixed and mastered faUSt's last album Punkt (as well as remastering the entire Faust 1971-1974 box set).
Experimentation is the essential flow of this workshop - taking place indoors at CAMP, in our performance and practice spaces, and outdoors in the epic landscape; we'll spend five days listening, playing, talking, and building something special. We'll be following the Faust modus operandi - jamming, experimenting, sound-making, discussing, recording, sharing ideas and having a lot of fun.
In Jean-Hervé's own words: "Let's spend five days experimenting with our instruments, our voices. Let's present and confront our different perceptions of art. Let's be a group of like-minded people heading to nowhere special, but eager to get somewhere where it is not about us, but rather about listening, about not-playing, about chaos and silence, about cooking and drones, about hips and clusters... some of us might be accomplished artists, others just people on their way to more. Amaury and I will share some of the experiences we made on- and off-stage - me in my 50 or so years with Faust and faUSt, Amaury with his 30 or so years with Ulan Bator. We are long-time partners on stage, and in workshops. I am a fervent believer in Fluxus and Dada. RUND IST SCHOEN!"
WHERE AND WHEN?
The course takes place at our residential centre in Aulus les Bains. It's two hours south of Toulouse, high in the French Pyrenees, very near the border with Spain. For detailed travel information, see the
transport
section. The course starts on Wednesday, May 10, 2023. We advise that you arrive the evening before (09/05/2023) - dinner and accommodation that night is included. The course runs for five days, ending on Sunday night. Accommodation on Sunday night is included, then we leave on Monday morning (15/05/2023). If you decide to take the minibus with us, you will be picked- up in Toulouse at 6pm on 09/05/2023, and will be back in Toulouse at 11am on 15/05/2023.
HOW TO BOOK
To book your place on the course, click the button in the green section above.
You won't pay anything right now
- we'll send you a booking confirmation email with everything you need to know next. Your place is reserved without payment for three days.
You'll find a payment link in the booking confirmation email - follow the link to make a payment (either in full, or the first payment of a month payment plan). In the latter case, a monthly payment plan will be put in place, so your card will be charged 1/ of the fee today, and 1/ each month (on the same day) for an additional -1 months. All card payments are handled by Stripe, and are extremely secure. We don't store any card data ourselves - all of this is handled securely off-site by Stripe. If you have a discount or grant code, you will be able to add it when you follow the payment link in your confirmation email.
Once you've made a payment, you'll receive another email containing your receipt, links to resources, contact information and access to our group chat to discuss the workshop with other participants.
INCLUDED IN THE COURSE FEE: SIX NIGHTS ACCOMMODATION, AND FIVE DAYS OF CLASSES AND ACTIVITIES, A COMFORTABLE PRIVATE ROOM AT CAMP, ALL MEALS (ALL DIETS CATERED FOR), UNLIMITED USE OF OUR RECORDING EQUIPMENT, EDITING SUITES, REHEARSAL STUDIOS, LIBRARY AND OTHER FACILITIES, POST-COURSE BENEFITS & SUPPORT (SEE BELOW)
NOT INCLUDED IN THE COURSE FEE: TRAVEL
STUDENT LEVEL: ALL WELCOME
EQUIPMENT REQUIRED: IF YOU PLAY AN INSTRUMENT, BRING IT (WE ALSO HAVE AN SMALL INSTRUMENT LIBRARY AVAILABLE).
POST-COURSE SUPPORT: RELEASE OPPORTUNITIES THROUGH CAMP EDITIONS, BROADCAST OPPORTUNITIES ON CAMP RADIO, PERFORMANCE AND TOURING OPPORTUNITIES AT FUSE ART SPACE AND ACROSS OUR NETWORK OF PARTNER VENUES.