OUT OF THE BOX WITH
BARKER
STARTS 2023-08-23 | SOLD OUT
SIMILAR COURSES: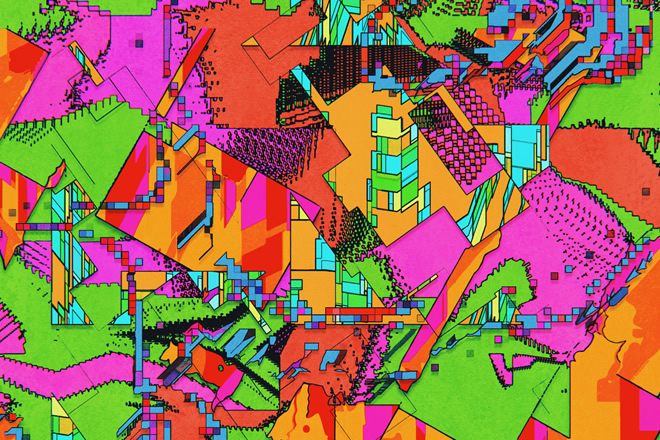 2023-06-21 | 3 PLACES LEFT
AUDIOVISUAL COLLABORATION: BUILDING & PERFORMING WITH KONX OM PAX AND HAMILL INDUSTRIES
THE BASICS
Six nights accommodation in a private room with mountain views
Five full days of teaching, workshops, discussions, activities and use of our excellent arts facilities
All inclusive - breakfast, lunch, dinner, snacks and drinks included
All dietary requirements catered for - vegetarian, vegan, gluten-free, allergies - no problem
Return transport from Toulouse included
HIGHLIGHTS
Explore physical, hardware and modular production and performance techniques with Berghain resident and Leisure System founder Sam Barker
Experiment with analogue, electric and acoustic engineering techniques, and learn how to build your own DIY instruments
Overhaul your productive process and examine the friction/challenges in your workflow
Release of your work on our in-house label, and broadcast opportunities on CAMP Radio
Unlimited use of our recording facilities, arts library, digital editing suites and other facilities
BOOK NOW
Sam
Barker

is one of the most notable driving forces to emerge from the Berlin electronic music scene over the last decade - as a producer, DJ, Berghain resident, and founder of the Leisure System label, Sam has provided consistent forward momentum for the Berlin scene and beyond.
From the blueprint of Barker & Baumecker's high-impact output for Ostgut Ton to his stunning 2019 album "Utility", Barker's music weaves original meshes from utopic ambient, heavyweight dub, rave breaks and neon-tinged techno. This lucid, non-dogmatic musical approach has also formed the bedrock of Leisure System, which has dispatched music by Dopplereffekt and Tim Exile, and provided early releases for Visionist, Objekt, and JETS (Jimmy Edgar & Travis Stewart).
This workshop is about getting "out of the box" with sound and music production - focusing less on software, and more on hardware and physical/acoustic techniques. It's not about hardware snobbery - as Sam puts it, "there's an elitism connected to hardware that I'm not at all keen on - people can make great stuff with whatever. But I think hardware doesn't have to be expensive, there's a wealth of affordable synths and drum machines available now, you can build a cheap modular system via DIY kits. My mechanical setup and acoustic reverbs were all really cheap, and hardware holds its value unlike software you can't resell, or a computer that's worthless after 5 years...".
Over five packed days, we'll be exploring:
Modular synthesis techniques including sound design, effects, tricks and favourite patches
Live performance including planning a set, choosing the right tools and techniques, accounting for scale
Mixdowns - aside from his own productions, Sam has mixed for The Field, Laurel Halo, Jakojako and others
Inspiration & motivation, including choosing goals, working with concepts, getting the right feedback, flow states, overcoming challenges/friction in your workflow, and finding productive processes for composition
Sam is also an active instrument maker - under his
Voltek
alias, he combines coding skills with analogue, electric and acoustic engineering techniques, designing and building electronically controlled acoustic instruments. In 2016 he worked with Ray 7 (Underground Resistance), exploring the acoustic qualities of derelict factories in Detroit using self-programmed analogue percussion instruments. We'll harness Sam's expertise to dive into the technology and mechanics of instrument making, with hands-on sessions using some of Sam's existing setups.
WHERE AND WHEN?
The course takes place at our residential centre in Aulus les Bains. It's two hours south of Toulouse, high in the French Pyrenees, very near the border with Spain. For detailed travel information, see the
transport
section. The course starts on Wednesday, August 23, 2023. We advise that you arrive the evening before (22/08/2023) - dinner and accommodation that night is included. The course runs for five days, ending on Sunday night. Accommodation on Sunday night is included, then we leave on Monday morning (28/08/2023). If you decide to take the minibus with us, you will be picked- up in Toulouse at 6pm on 22/08/2023, and will be back in Toulouse at 11am on 28/08/2023.
HOW TO BOOK
To book your place on the course, click the button in the green section above.
You won't pay anything right now
- we'll send you a booking confirmation email with everything you need to know next. Your place is reserved without payment for three days.
You'll find a payment link in the booking confirmation email - follow the link to make a payment (either in full, or the first payment of a month payment plan). In the latter case, a monthly payment plan will be put in place, so your card will be charged 1/ of the fee today, and 1/ each month (on the same day) for an additional -1 months. All card payments are handled by Stripe, and are extremely secure. We don't store any card data ourselves - all of this is handled securely off-site by Stripe. If you have a discount or grant code, you will be able to add it when you follow the payment link in your confirmation email.
Once you've made a payment, you'll receive another email containing your receipt, links to resources, contact information and access to our group chat to discuss the workshop with other participants.
IMPORTANT: BY SIGNING UP TO A COURSE (OR A PAYMENT SPLIT), YOU AGREE TO THE TERMS
INCLUDED IN THE COURSE FEE: SIX NIGHTS ACCOMMODATION, AND FIVE DAYS OF CLASSES AND ACTIVITIES, A COMFORTABLE PRIVATE ROOM AT CAMP, ALL MEALS (ALL DIETS CATERED FOR), UNLIMITED USE OF OUR RECORDING EQUIPMENT, EDITING SUITES, REHEARSAL STUDIOS, LIBRARY AND OTHER FACILITIES, POST-COURSE BENEFITS & SUPPORT (SEE BELOW)
NOT INCLUDED IN THE COURSE FEE: TRAVEL
STUDENT LEVEL: ALL WELCOME
EQUIPMENT REQUIRED: BRING ANYTHING YOU LIKE WORKING WITH, OR USE OURS
POST-COURSE SUPPORT: PERFORMANCE AND INSTALLATION OPPORTUNITIES AT FUSE ART SPACE, RELEASE OPPOTUNITIES VIA CAMP EDITIONS, BROADCAST OPPORTUNITIES ON CAMP RADIO