AUDIOVISUAL COLLABORATION: BUILDING & PERFORMING WITH
KONX OM PAX AND HAMILL INDUSTRIES
STARTS 2023-06-21
SIMILAR COURSES: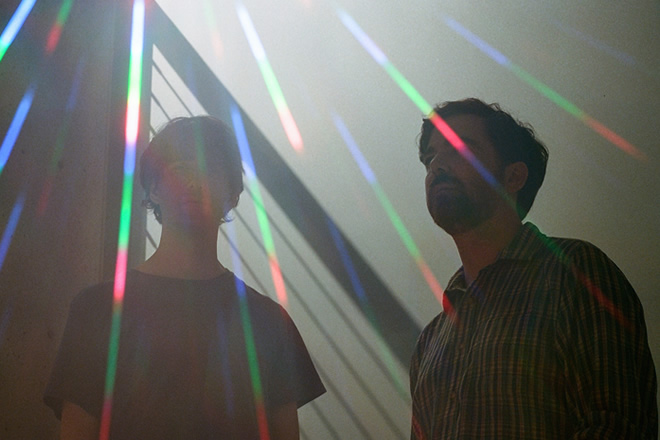 2023-10-25 | 3 PLACES LEFT
HYPERREAL ENVIRONMENTS, KANKYO ONGAKU AND COMPOSING BEYOND THE SELF WITH VISIBLE CLOAKS AND YOSHIO OJIMA
THE BASICS
Six nights accommodation in a private room with mountain views
Five full days of teaching, workshops, discussions, activities and use of our excellent arts facilities
All inclusive - breakfast, lunch, dinner, snacks and drinks included
Return transport from Toulouse included
HIGHLIGHTS
Explore the space and connections between audio and visual art
Five days of talks, hands-on workshops, thinking, making and exploring ideas with three of the most groundbreaking AV artists in the world
Create automated timelapse rigs in the epic Pyrenean landscape
Unlimited use of our recording facilities, editing suites, arts library and performance spaces
Optional outdoors activities including ascent of Mont Ceint, and the spectacular Cascade d'Ars
BOOK NOW
In 2022, we carried out our first AV workshops - sessions aimed at musicians interested in adding visual dimensions to their work, visual/installation artists interested in delving into sonic elements, and anyone with an interest in exploring the space where audio and visual arts meet, whether in a live performance, installation or studio/workshop environment.
We're developing this program in 2023 with another groundbreaking AV workshop, this time led by rave futurist Tom Scholefield aka
Konx Om Pax

, and mix-media artists Pablo Barquin and Anna Diaz, aka
Hamill Industries

.
For Tom (aka Konx Om Pax), the language of design and music production cross over. As a producer, he's released two LPs on Planet Mu, the first of which was a resolutely melancholy and grainy take on pastoral IDM, shaped by living alone in Glasgow. The result of a move to Berlin and subsequent embrace of more rave tinged signatures, his later releases (Caramel and Refesher) present a fresh take on advanced dance music that is hard to tame. Saturated neon colours, classic '80s sci-fi and early modernist cues are recurrent themes in a vivid aesthetic that's instantly recognisable and helping shape the looks of Oneohtrix Point Never, Hudson Mohawke and Kuedo.
Hamill Industries is a creative studio partnership composed of skilled film directors, inventors, and mix-media artists Pablo Barquin and Anna Diaz. Their body of work focuses on marrying computerized, robotic, and video techniques to explore concepts from nature, the cosmos, and the laws of physics. They work across multiple mediums including TV advertising, music videos, art installations and live performance. Their work has been recognized internationally in specialized publications (such as DJ MAG, It's Nice That, RA, Deezen, The Creators Project) and awards such as the GRAND LAUS 2019, LAUS d'OR 2015 and special mentions in the STARTS PRIZE AWARD 2016. Since 2015, they've been touring with Floating Points creating visual performances, and have presented their work at festivals and institutions such as SÓNAR Festival, ARS Electronica, Semipermanent, and the Barbican in London. They've worked for brands such as Converse, Diesel, MTV, Barcelona Football Club or the Contemporary Arts Museum of Barcelona (MACBA).
Anna & Pablo's section of the workshop is deeply intertwined with the landscape - during their days, you'll learn how to create your own automated timelapse rigs. Anna & Pablo will teach you how to build and program a rig that can move a DSLR camera with Arduino, and adjust the settings to capture (in a very Hamill way) the nature that surrounds us. They'll encourage participants to create rigged still-life setups, and observe and capture the beauty of plans through the camera lens by exploring different illumination techniques (use of multipass photo, UV light or Infrared) to enhance the visual properties. This section of the workshop will provide you with the tools and knowledge you need to build your own automated timelapse rig and capture the beauty of nature through a creative perspective.
Tom's section of the workshop will introduce Touchdesigner, and how to implement Ableton Live into the workflow to create realtime audio visual content. The first morning will be an overview of the user interface within Touchdesigner, before we move on to take a look at the AbletonTD package within Touchdesigner, its various components, and how to interface with Ableton (including using midi, audio and clip data from Ableton to influence parameters within Touchdesigner). Finally, we'll focus on building a simple audio visual work that mixes generative patterns and movie clips powered by musical data from Ableton.
WHERE AND WHEN?
The course takes place at our residential centre in Aulus les Bains. It's two hours south of Toulouse, high in the French Pyrenees, very near the border with Spain. For detailed travel information, see the
transport
section. The course starts on Wednesday, June 21, 2023. We advise that you arrive the evening before (20/06/2023) - dinner and accommodation that night is included. The course runs for five days, ending on Sunday night. Accommodation on Sunday night is included, then we leave on Monday morning (26/06/2023). If you decide to take the minibus with us, you will be picked- up in Toulouse at 6pm on 20/06/2023, and will be back in Toulouse at 11am on 26/06/2023.
HOW TO BOOK
To book your place on the course, click the button in the green section above.
You won't pay anything right now
- we'll send you a booking confirmation email with everything you need to know next. Your place is reserved without payment for three days.
You'll find a payment link in the booking confirmation email - follow the link to make a payment (either in full, or the first payment of a month payment plan). In the latter case, a monthly payment plan will be put in place, so your card will be charged 1/ of the fee today, and 1/ each month (on the same day) for an additional -1 months. All card payments are handled by Stripe, and are extremely secure. We don't store any card data ourselves - all of this is handled securely off-site by Stripe. If you have a discount or grant code, you will be able to add it when you follow the payment link in your confirmation email.
Once you've made a payment, you'll receive another email containing your receipt, links to resources, contact information and access to our group chat to discuss the workshop with other participants.
INCLUDED IN THE COURSE FEE: SIX NIGHTS ACCOMMODATION, AND FIVE DAYS OF CLASSES AND ACTIVITIES, A COMFORTABLE PRIVATE ROOM AT CAMP, ALL MEALS (ALL DIETS CATERED FOR), UNLIMITED USE OF OUR RECORDING EQUIPMENT, EDITING SUITES, REHEARSAL STUDIOS, LIBRARY AND OTHER FACILITIES, POST-COURSE BENEFITS & SUPPORT (SEE BELOW)
NOT INCLUDED IN THE COURSE FEE: TRAVEL
STUDENT LEVEL: ALL WELCOME
EQUIPMENT REQUIRED: NONE REQUIRED, BUT A LAPTOP WOULD BE EXTREMELY USEFUL. IF YOU HAVE ACCESS TO A DSLR CAMERA, BRING IT ALONG. IF YOU USE SPECIFIC EQUIPMENT IN YOUR PRACTICE, BRING IT WITH YOU IF POSSIBLE.
POST-COURSE SUPPORT: EXHIBITION, INSTALLATION AND TOURING OPPORTUNITIES AT FUSE ART SPACE AND ACROSS OUR NETWORK OF PARTNER ORGANISATIONS, BROADCAST OPPORTUNITIES ON CAMP RADIO, RELEASE OPPORTUNITIES ON OUR IN-HOUSE LABELS, ONGOING SUPPORT AND MENTORING FROM OUR TEAM.