ECOACOUSTICS: LISTENING, TRANSMITTING AND CURATING SOUNDSCAPES WITH
ALICE ELDRIDGE, RAQUEL CASTRO, GRANT SMITH, LEAH BARCLAY, ANNEA LOCKWOOD AND HILDEGARD WESTERKAMP
STARTS 2023-10-11
SIMILAR COURSES: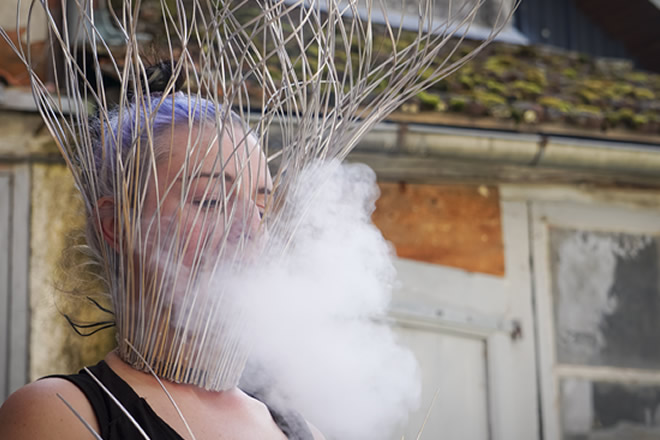 2024-08-07 | 6 PLACES LEFT
MYTHS AWAKENED; PERFORMANCE AND COLLABORATIVE EXPLORATION OF THE SELF WITH ARRAY COLLECTIVE
THE BASICS
Six nights accommodation in a private room with mountain views
Five full days of teaching, workshops, discussions, activities and use of our excellent arts facilities
All inclusive - breakfast, lunch, dinner, snacks and drinks included
Return transport from Toulouse included
HIGHLIGHTS
Build and deploy streamboxes in the landscape
Learn a wide range of field recording techniques
Explore the theory and practice of ecoacoustics - art, science, ethics, politics and more
Delve into the curation and documentation of sound artworks
Unlimited use of our recording facilities, editing suites, arts library and performance spaces
Optional outdoors activities including ascent of Mont Ceint, and the spectacular Cascade d'Ars
BOOK NOW
This workshop takes a wide and inquisitive approach to ecoacoustics, listening, and sound environments. From hands-on, practical fieldwork with streamboxes and other field recording setups to exploration of cutting edge theory, we'll dive into the art, science, technology, ethics and politics of ecological sound practices. Talks from pioneers in the field will frame excursions in the unique alpine landscape and around town. Opportunities for listening, transmitting and recording, will be combined with research, discussion and processing back at CAMP, working with the unique soundscapes of Aulus and the surrounding area to develop your own interdisciplinary practice.
The workshop will be led by
Alice Eldridge

,
Grant Smith

and
Raquel Castro

onsite, with guest video calls from
Leah Barclay

,
Hildegard Westerkamp

and
Annea Lockwood

.
Grant Smith (Soundcamp) will bring a hands-on workshop building streamboxes – affordable field transmitters that can relay live sounds from air microphones, hydrophones and bat detectors. By placing them in Aulus and the mountains above, we will bring sounds into the space for listening, mixing and discussion.
Alice Eldridge will introduce transdisciplinary perspectives on theories and practices of ecoacoustics. Approaching the soundscape as a semiotic interface, a variety of scientific, microphenomenological and indigenous perspectives on listening will be introduced; you will be invited to experiment with how different modes of ecological listening shift your own experiences of listening in relation to place, environment and other beings.
Raquel Castro will focus on sonic curation and the documentation of sound artworks. Through different case studies, we will explore the challenges of curating sound, particularly when the aim is to prioritise environmental awareness and ecological thinking. Beyond the traditional notion of nature and the environment - we'll look at interconnected systems, issues of cultural difference, power dynamics, and politics of representation. We'll explore the importance of documenting ephemeral sound artworks - concerns which are frequently quite different to documentation of plastic arts.
Joining us via Zoom from the Sunshine Coast, Leah Barclay will reflect on the first CAMP Ecoacoustic workshop and look at current perspectives and best practice for Ecoacoustics research and creative practice. We will explore ethical and reciprocal approaches to listening, field recording and creative practice in addition to exploring the design and development of Ecoacoustics research projects that sit at the intersection of art and science.
Annea Lockwood and Hildegard Westerkamp will each join us for a 1-2hr video call, to talk us through their use of soundscape and ecoacoustics in their work, show their perspectives on the field, and answer questions. Hildegard will use her sessions to explore listening practice as a path to building resilience, flexibility and strength in unsettled times.
Soundcamp are an arts cooperative based at Stave Hill Ecological Park in South London. We coordinate the long-form radio broadcast Reveil (2014 –) and a series of sound and ecology events (soundcamps) on Dawn Chorus day each year. Our work appears as broadcasts, workshops and events. Research covers participatory audio technologies and live media for art–science and environmental advocacy. Recent projects include: l a g – experiments with ecological radio: residency with Kate Donovan for Sonic Acts (2022); Acoustic Commons (2020-2022) for Creative Europe; As if radio.. (AIR) at COP26 Glasgow (2021).
Alice Eldridge is a transdisciplinarian with an interest in how sound organises systems. Her research integrates ideas and methods from music, complexity science, computer science, ecology and indigenous cosmovision to advance theory and methods in ecoacoustics and biologically-inspired music technologies. Alice is currently Reader in Sonic Systems at the University of Sussex where she is co-director of the Sussex Humanities Lab, co-director of the Experimental Music Technology Lab and a fellow of the Sussex Sustainability Research Programme. Current and recently funded projects include development of novel acoustic methods for ecological assessment in terrestrial and marine environments, participatory action research for indigenous soundscape heritage and soundscape methodologies for wilderness mapping. Testament to her career indecision, she has appeared on BBC TV and BBC 4 as a soundscape ecologist; on BBC 3 as a free jazz cellist; on BBC 6 show as a contemporary chamber composer; and on BBC 1 John Peel show as a pop bassist.
Raquel Castro is a researcher, director and curator. Founder and director of the Lisboa Soa sound art festival and the international symposium Invisible Places, she holds a PhD in Communication and Arts by FCSH-UNL with the thesis "Contributions to an Analysis of the Soundscape: Sound, Space and Acoustic Identity". She is integrated researcher at CICANT and currently teaches "Archaeology and Soundscapes" at Universidade Lusófona, in Lisbon. Her activities as a researcher and curator resulted in documentaries such as Soundwalkers (2008) and SOA (2020), where interviews, art and sound environments combine to broaden awareness about sound and listening. SOA was exhibited by RTP2 and is currently streaming on Netflix. Castro has been curating internationally, namely the cycle of exhibitions "Sound Art in Public Spaces", presented in the following contexts: Wilde Westen (Belgium), November Music (Netherlands), Spor Festival (Denmark), Onassis Stegi (Greece) and Ultima Olso (Norway). In 2022, Castro founded the cultural association Sonora, with which she creates, plans and produces transdisciplinary projects in the intersection between art, science, ecology and sound. In her work, Raquel Castro seeks to create awareness of the relationship between sound and environment and, by extension, the social, cultural and ecological aspects that are revealed through the practice of listening.
Dr Leah Barclay is an Australian sound artist, composer, designer and researcher who works at the intersection of art, science and technology. Leah's research and creative work over the last decade has investigated innovative approaches to recording and disseminating the soundscapes of terrestrial and aquatic ecosystems to inform conservation, scientific research and public engagement. Her work explores ways we can use creativity, new technologies and emerging science to reconnect communities to the environment and inspire climate action. Leah leads a portfolio of research projects including Biosphere Soundscapes and River Listening that focus on advancing the field of ecoacoustics and acoustic ecology. She has received numerous awards and her work has been commissioned, performed and exhibited to wide acclaim internationally by organisations including the Smithsonian Museum, UNESCO, Ear to the Earth, Streaming Museum, Al Gore's Climate Reality and the IUCN. Leah's augmented reality sound installations have been presented across the world from Times Square in New York City to the Eiffel Tower in Paris for COP21. She is the president of the Australian Forum for Acoustic Ecology, the vice-president of the World Forum of Acoustic Ecology and serves on the board of a range of arts and environmental organisations. She is currently the Discipline Lead of Design at the University of the Sunshine Coast in Queensland, Australia.
Hildegard Westerkamp joined the World Soundscape Project under the direction of R. Murray Schafer at Simon Fraser University (SFU). Her involvement with this project not only activated deep concerns about noise and the general state of the acoustic environment in her, but it also changed her ways of thinking about music, listening and soundmaking. In 1993 she was instrumental in helping found the World Forum for Acoustic Ecology (www.wfae.net), and was chief editor of its journal Soundscape between 2000 and 2012. Hildegard's compositions have been performed and broadcast around the world. She has composed film soundtracks, sound documents for radio and has produced and hosted radio programs such as Soundwalking, and Musica Nova on Vancouver Co-operative Radio.
Annea Lockwood brings vibrant energy, ceaseless curiosity, and a profound sense of openness to her music. Lockwood's lifelong fascination with the visceral effects of sound in our environments and through our bodies—the way sounds unfold and their myriad "life spans"—serves as the focal point for works ranging from concert music to performance art to multimedia installations. Her work has been presented internationally at institutions and festivals such as Lucerne Festival, Tectonics Athens Festival, Signale Graz, Counterflows International Festival of Music and Art, Huddersfield Contemporary Music Festival, and many others. Annea has received commissions from Bang On A Can, baritone Thomas Buckner, pianists Sarah Cahill, Lois Svard, and Jennifer Hymer, the Holon Scratch Orchestra, Essential Music, Yarn/Wire, Issue Project Room and many others, and recordings of her work have emerged via Mutable, Pogus, Recital, Harmonia Mundi, CRI, Superior Viaduct, Black Truffle, New World, Gruenrekorder, and Moving Furniture Records.
WHERE AND WHEN?
The course takes place at our residential centre in Aulus les Bains. It's two hours south of Toulouse, high in the French Pyrenees, very near the border with Spain. For detailed travel information, see the
transport
section. The course starts on Wednesday, October 11, 2023. We advise that you arrive the evening before (10/10/2023) - dinner and accommodation that night is included. The course runs for five days, ending on Sunday night. Accommodation on Sunday night is included, then we leave on Monday morning (16/10/2023). If you decide to take the minibus with us, you will be picked- up in Toulouse at 6pm on 10/10/2023, and will be back in Toulouse at 11am on 16/10/2023.
HOW TO BOOK
To book your place on the course, click the button in the green section above.
You won't pay anything right now
- we'll send you a booking confirmation email with everything you need to know next. Your place is reserved without payment for three days.
You'll find a payment link in the booking confirmation email - follow the link to make a payment (either in full, or the first payment of a month payment plan). In the latter case, a monthly payment plan will be put in place, so your card will be charged 1/ of the fee today, and 1/ each month (on the same day) for an additional -1 months. All card payments are handled by Stripe, and are extremely secure. We don't store any card data ourselves - all of this is handled securely off-site by Stripe. If you have a discount or grant code, you will be able to add it when you follow the payment link in your confirmation email.
Once you've made a payment, you'll receive another email containing your receipt, links to resources, contact information and access to our group chat to discuss the workshop with other participants.
INCLUDED IN THE COURSE FEE: SIX NIGHTS ACCOMMODATION, AND FIVE DAYS OF CLASSES AND ACTIVITIES, A COMFORTABLE PRIVATE ROOM AT CAMP, ALL MEALS (ALL DIETS CATERED FOR), UNLIMITED USE OF OUR RECORDING EQUIPMENT, EDITING SUITES, REHEARSAL STUDIOS, LIBRARY AND OTHER FACILITIES, POST-COURSE BENEFITS & SUPPORT (SEE BELOW)
NOT INCLUDED IN THE COURSE FEE: TRAVEL
STUDENT LEVEL: ALL WELCOME
EQUIPMENT REQUIRED: LAPTOP AND HEADPHONES WILL BE VERY USEFUL. IF YOU HAVE FIELD RECORDING EQUIPMENT, BRING IT WITH YOU.
POST-COURSE SUPPORT: BROADCAST OPPORTUNITIES ON CAMP RADIO; RELEASE OPPORTUNITIES VIA CAMP EDITIONS; PERFORMANCE, INSTALLATION AND TOURING OPPORTUNITIES AT FUSE ART SPACE AND VIA OUR NETWORK OF PARTNER VENUES AND ORGANISATIONS.