PERFORMANCE & PROCESS WITH
MARK FELL, OKKYUNG LEE AND RIAN TREANOR
STARTS 2023-09-13
SIMILAR COURSES: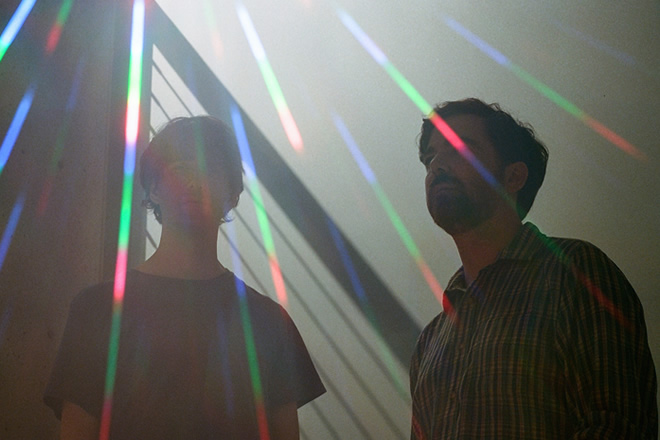 2023-10-25 | 3 PLACES LEFT
HYPERREAL ENVIRONMENTS, KANKYO ONGAKU AND COMPOSING BEYOND THE SELF WITH VISIBLE CLOAKS AND YOSHIO OJIMA
THE BASICS
Six nights accommodation in a private room with mountain views
Five full days of teaching, workshops, discussions, activities and use of our excellent arts facilities
All inclusive - breakfast, lunch, dinner, snacks and drinks included
Return transport from Toulouse included
HIGHLIGHTS
Five days of immersive performance training with three pioneering artists
Confront and dismantle your habits, and explore new performance strategies
Explore the roles of audience, space, practice and preparation in performance
Unlimited use of our recording facilities, arts library, digital editing suites and other facilities
Optional mountain expeditions including ascent of Mont Ceint and the spectacular Cascade d'Ars
BOOK NOW
Blending practical, hands-on exercises and activities with theoretical exploration and discussion, these five days of immersive performance and soundmaking will explore a wide range of radical performative processes. We'll identify and confront our performative habits, and look at performance as a procedure, developing, exploring and interrogating different modes of performance. We'll examine the role of the audience in performative environments, dissect different practice and preparation strategies, and question how diverse factors affect performance, from physical spaces to performer relationships, timeframes to instrumentation.
Each day will begin with group discussion and devising activities for the day, in the form of exploratory methodologies, technologies, processes, formats and their interaction. We'll take the results of that discussion as a launching point for the day, expanding on salient points and building performance strategies around them.
Mark Fell

is a UK-based multidisciplinary artist. Recognised as being "one of the most compelling and influential electronic artists in the world" (South Bank Centre), his practice draws upon electronic music subcultures, experimental film, contemporary philosophy and radical politics, and typically explores issues such as time-perception, technology, cognition, and collaborative process. Over the past 30 years Fell's output has grown into a significant body of work: from early electronic sound works and recorded pieces, to installation, critical texts, curatorial projects, educational systems and choreographic performances.
In 2017 Mark curated a major exhibition of sound art for V-A-C foundation (Moscow) "The Geometry of Now", and led a British council research project to India to study Carnatic music composition and emergent electronic arts (with AC Projects Glasgow). Serralves Foundation (Porto) premiered "Intermetamorphosis" (2017), collection of works by fell which included new commissions as well as a retrospective pieces. In 2018 he completed two large scale multi-spatial sound works: "Protomusic#1" for Sage Gateshead, forming their flagship contribution to the Great Exhibition of the North; and "Frameworks" at Palazzo delle Zattere (Venice). 2019 saw two new performative pieces including "Hominin" (Rewire, Den Haag) and "Against Method" (Pirelli Hanger Bicocca, Milan), as well as the solo exhibition "The Concept of Time is Intrinsically Incoherent" (Focal Point Gallery, South End on Sea). Drawing from sacred geometries to programming structures, these works underlined Mark's particular interest in non-linear systems and structures, and our complex inter-relationships with them.
The diversity and importance of Mark's practice is reflected in the range and scale of institutions that have presented his work, including: VAC Foundation Palazzo delle Zattere (Venice), Hong Kong National Film Archive, The Baltic (Gateshead), Museu d'Art Contemporani de Barcelona, La Casa Encendida (Madrid), Laboral (XIxon), The Institute of Contemporary Art (London), Royal Festival Hall (London), The Serpentine (London), Victoria and Albert Museum (London), Whitechapel Gallery (London), The Institute of Contemporary Art (London), Barbican (London), Raven Row (London), Seville Biennale, The Australian Centre For Moving Image (Melbourne), Artists Space (NYC), Moma (NYC), Issue Project Room (NYC), Corcoran (DC), Curtis R. Priem Experimental Media and Performing Arts Center (NY), Lampo/Graham Foundation for Advanced Studies in the Fine Arts (Chicago), Zentrum fur Kunst und Medientechnologie (Karlsruhe), Pirelli Hanger Biccoca (Milan) among others. Mark's work is in the collection of the Thyssen-Bornemisza Art Contemporary (Vienna) and has as been recognised by ARS Electronica (Linz). He has worked with a number of artists including: Yasunao Tone, Laurie Spiegel, Keith Fullerton Whitman,
Okkyung Lee

, Luke Fowler, Peter Gidal, Terre Thaemlitz, John Chowning, Ernest Edmonds, Peter Rehberg, Oren Ambarchi, Carl Michael Von Hausswolff and Mat Steel (as SND). Mark is currently guest professor of media art at Die Staatliche Hochschule fur Gestaltung Karlsruhe (HfG).
Okkyung Lee is a cellist, composer, and improviser who moves freely between artistic disciples and contingencies. Since 2000 she has worked in disparate contexts as a solo artist and collaborator in a wide range of disciplines. A native of South Korea, Okkyung has taken a broad array of inspirations - noise, improvisation, jazz, western classical, and her homeland's traditional and popular music — and used them to forge a highly distinctive approach. Whilst she's probably known best for her improvisational work utilizing visceral extended techniques on her instrument, she has also created various types of compositions and site-specific works, responding to the architecture, audience, or objects surrounding her, producing immersive experiences which challenge the built-in hierarchy in traditional concert settings.
Okkyung has appeared on more than 30 albums, and has released notable work on GRM Portraits/Editions Mego. She has produced commissions and assemble projects for Time Spans Festival (New York, USA), Groupe de Recherches Musicales (Paris, France), Sonic Acts Festival (Amsterdam, The Netherlands), Borealis Festival (Bergen, Norway), Donaueschingen Music Festival (Donaueschingen, Germany) and Nam June Paik Art Center (Yong-In, South Korea). She has performed in the Museum of Modern Art (New York), Whitney Museums of American Art (New York, USA), The Met Breuer (New York, USA), Museum Tinguely (Basel, Switzerland), Museo del Novecento (Milan, Italy), Serpentine Galleries (London, UK), White Cube Galleries (London, UK) and many others. In 2010, she received Foundation for Contemporary Arts Grant and a Doris Duke Performing Artist Award in 2015; she was also awarded residencies at Civitella Ranieri in Umbria, Italy in 2015 and Akademie Schloss Solitude in Stuttgart, Germany in 2017.
Rian Treanor

re-imagines club culture, experimental art and computer music, presenting an insightful and compelling musical world of fractured and interlocking components. Having left a vivid impression with a string of releases on The Death of Rave & Warp sub-label Arcola, his debut album 'ATAXIA' for Planet Mu in 2019 established him as both a disruptive and essential new voice in British underground club music. His latest album 'File Under UK Metaplasm' takes inspiration from his residency at the Nyege Nyege collective's Boutique Studio in Kampala in 2018. Incorporating the high-def bass weight of his home town Sheffield with the enigmatic energy of Tanzanian Singeli and Footwork. Using the programming language Max/MSP he develops bespoke software to explore extended rhythmic techniques and algorithmic processes, building devices that enable spontaneous pattern modulation within various collaborations, workshops, live performances and installations. With recent live shows at the Aphex Twin Curated Warehouse Project (UK), Nyege Nyege Festival (UG), WWW (JP), Unsound (PL), CTM (DE), Le Guess Who? (NL), Mira Festival (SP), Rewire (NL), GES-2 (RU), Serralves (PT), Berghain (DE), No Bounds (UK), Cafe Oto (UK), Glasgow Centre for Contemporary Arts (UK), Empty Gallery (HK), Irish Museum of Modern Art (IRL), Summerhall (UK). He has also taken part in artists residencies at yU+co[lab] in Hong Kong, Counterflows in India and Shape Platform 2020.
WHERE AND WHEN?
The course takes place at our residential centre in Aulus les Bains. It's two hours south of Toulouse, high in the French Pyrenees, very near the border with Spain. For detailed travel information, see the
transport
section. The course starts on Wednesday, September 13, 2023. We advise that you arrive the evening before (12/09/2023) - dinner and accommodation that night is included. The course runs for five days, ending on Sunday night. Accommodation on Sunday night is included, then we leave on Monday morning (18/09/2023). If you decide to take the minibus with us, you will be picked- up in Toulouse at 6pm on 12/09/2023, and will be back in Toulouse at 11am on 18/09/2023.
HOW TO BOOK
To book your place on the course, click the button in the green section above.
You won't pay anything right now
- we'll send you a booking confirmation email with everything you need to know next. Your place is reserved without payment for three days.
You'll find a payment link in the booking confirmation email - follow the link to make a payment (either in full, or the first payment of a month payment plan). In the latter case, a monthly payment plan will be put in place, so your card will be charged 1/ of the fee today, and 1/ each month (on the same day) for an additional -1 months. All card payments are handled by Stripe, and are extremely secure. We don't store any card data ourselves - all of this is handled securely off-site by Stripe. If you have a discount or grant code, you will be able to add it when you follow the payment link in your confirmation email.
Once you've made a payment, you'll receive another email containing your receipt, links to resources, contact information and access to our group chat to discuss the workshop with other participants.
INCLUDED IN THE COURSE FEE: SIX NIGHTS ACCOMMODATION, AND FIVE DAYS OF CLASSES AND ACTIVITIES, A COMFORTABLE PRIVATE ROOM AT CAMP, ALL MEALS (ALL DIETS CATERED FOR), UNLIMITED USE OF OUR RECORDING EQUIPMENT, EDITING SUITES, REHEARSAL STUDIOS, LIBRARY AND OTHER FACILITIES, POST-COURSE BENEFITS & SUPPORT (SEE BELOW)
NOT INCLUDED IN THE COURSE FEE: TRAVEL
STUDENT LEVEL: ALL WELCOME
EQUIPMENT REQUIRED: LAPTOP AND HEADPHONES VERY USEFUL; IF YOU PLAY AN INSTRUMENT, BRING IT.
POST-COURSE SUPPORT: RELEASE OF YOUR WORK ON CAMP EDITIONS; BROADCAST OPPORTUNITIES ON CAMP RADIO; PERFORMANCE, INSTALLATION AND EXHIBITION OPPORTUNITIES AT FUSE ART SPACE AND ACROSS OUR NETWORK OF PARTNER ORGANISATIONS.