COMPOSING FOR STAGE WITH
PHILIP VENABLES
STARTS 2023-08-02
SIMILAR COURSES: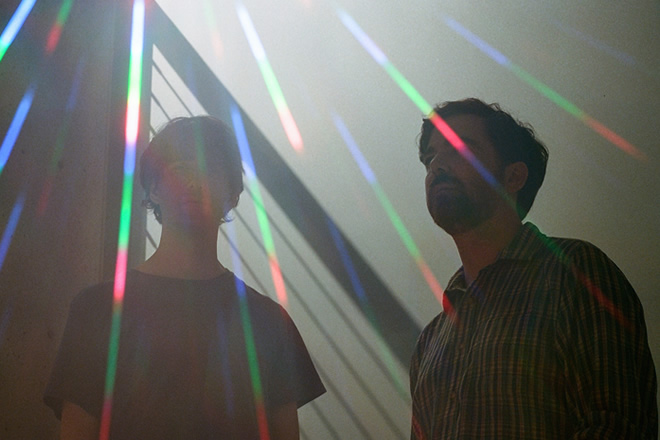 2023-10-25 | 3 PLACES LEFT
HYPERREAL ENVIRONMENTS, KANKYO ONGAKU AND COMPOSING BEYOND THE SELF WITH VISIBLE CLOAKS AND YOSHIO OJIMA
THE BASICS
Six nights accommodation in a private room with mountain views
Five full days of teaching, workshops, discussions, activities and use of our excellent arts facilities
All inclusive - breakfast, lunch, dinner, snacks and drinks included
Return transport from Toulouse included
HIGHLIGHTS
Immerse yourself in five days of composition workshops led by Philip Venables
Explore modern approaches to musical storytelling, including music theatre, opera, song, theatre, and performance art
Get individual tuition from Philip, and work with the group to produce small scenes and projects
This workshop is equally useful for writers of musical theatre and composers
Unlimited use of our recording facilities, arts library, digital editing suites and other facilities
Optional mountain expeditions including ascent of Mont Ceint and the spectacular Cascade d'Ars
BOOK NOW
This workshop will explore different approaches to working with text and music in music theatre, opera, song, theatre and performance art contexts. It is ideal for composers and writers/dramatists/librettists interested in any kind of music theatre or storytelling with music.
Over five days of presentation, discussion, research, and listening, and taking place in CAMP's facilities and in the surrounding landscape, we will focus on:
Different approaches to combining text and music
Thinking about musical dramaturgy — how do we use music to bring theatre alive
Making small scenes or small projects during our course
The creative process, from idea to storyboard to text to music
A manifesto for change — what music theatre / opera do we want to see in the future?
Collaborative composer
Philip Venables

is described as "an arrestingly original musical personality" by Alex Ross in The New Yorker and as "one of the finest composers around" by The Guardian. Their previous two operas, '4.48 Psychosis' (2016, text by Sarah Kane) and 'Denis & Katya' (2019, text by Ted Huffman), have been performed by leading companies in London, New York City, Strasbourg, Dresden, Amsterdam, Philadelphia, Paris, Hannover and Montpellier. The operas have won numerous accolades including the Fedora Prize, an RPS Award, and an Ivor Novello Award, as well as shortlisted nominations for an Olivier Award and Sky Arts South Bank Award. The Times described '4.48 Psychosis' as "a new brand of opera"; meanwhile The New York Times branded 'Denis & Katya' "an intimate, haunting triumph."
2021 saw a major focus on Philip's work in the Festival d'Automne à Paris and Philip's professional conducting debut with the London Sinfonietta, as well as the premiere of Answer Machine Tape, 1987 with Zubin Kanga. Philip was a MacDowell Fellow in 2017, doctoral composer in residence with the Royal Opera and the Guildhall School of Music & Drama in 2014–2016, and elected Associate of the Royal Academy of Music in 2016. 2022/23 sees further performances of Answer Machine Tape, 1987, Denis & Katya and 4.48 Psychosis, and the world premiere of their third opera, 'The Faggots and their Friends Between Revolutions'.
WHERE AND WHEN?
The course takes place at our residential centre in Aulus les Bains. It's two hours south of Toulouse, high in the French Pyrenees, very near the border with Spain. For detailed travel information, see the
transport
section. The course starts on Wednesday, August 2, 2023. We advise that you arrive the evening before (01/08/2023) - dinner and accommodation that night is included. The course runs for five days, ending on Sunday night. Accommodation on Sunday night is included, then we leave on Monday morning (07/08/2023). If you decide to take the minibus with us, you will be picked- up in Toulouse at 6pm on 01/08/2023, and will be back in Toulouse at 11am on 07/08/2023.
HOW TO BOOK
To book your place on the course, click the button in the green section above.
You won't pay anything right now
- we'll send you a booking confirmation email with everything you need to know next. Your place is reserved without payment for three days.
You'll find a payment link in the booking confirmation email - follow the link to make a payment (either in full, or the first payment of a month payment plan). In the latter case, a monthly payment plan will be put in place, so your card will be charged 1/ of the fee today, and 1/ each month (on the same day) for an additional -1 months. All card payments are handled by Stripe, and are extremely secure. We don't store any card data ourselves - all of this is handled securely off-site by Stripe. If you have a discount or grant code, you will be able to add it when you follow the payment link in your confirmation email.
Once you've made a payment, you'll receive another email containing your receipt, links to resources, contact information and access to our group chat to discuss the workshop with other participants.
INCLUDED IN THE COURSE FEE: SIX NIGHTS ACCOMMODATION, AND FIVE DAYS OF CLASSES AND ACTIVITIES, A COMFORTABLE PRIVATE ROOM AT CAMP, ALL MEALS (ALL DIETS CATERED FOR), UNLIMITED USE OF OUR RECORDING EQUIPMENT, EDITING SUITES, REHEARSAL STUDIOS, LIBRARY AND OTHER FACILITIES, POST-COURSE BENEFITS & SUPPORT (SEE BELOW)
NOT INCLUDED IN THE COURSE FEE: TRAVEL
STUDENT LEVEL: ALL WELCOME
EQUIPMENT REQUIRED: NONE REQUIRED, LAPTOP AND HEADPHONES IS USEFUL
POST-COURSE SUPPORT: RELEASE OF YOUR WORK ON CAMP EDITIONS; BROADCAST OPPORTUNITIES ON CAMP RADIO; PERFORMANCE, TOURING, INSTALLATION AND EXHIBITION OPPORTUNITIES AT FUSE ART SPACE AND ACROSS OUR NETWORK OF PARTNER ORGANISATIONS.