ELECTRONIC MUSIC WITH
LAUREL HALO
STARTS 17/07/2019
SIMILAR COURSES: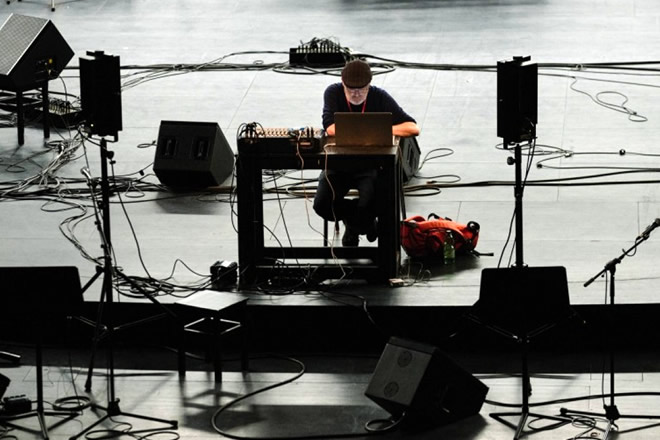 25/08/2021 | 0 PLACES LEFT
ENVIRONMENT AND SYNTHESIS WITH MARK FELL AND CM VON HAUSSWOLFF
THE BASICS
Six nights accommodation in a private room with mountain views
Five full days of teaching, workshops, discussions, activities and use of our excellent arts facilities
All inclusive - breakfast, lunch, dinner, snacks and drinks included
All dietary requirements catered for - vegetarian, vegan, gluten-free, allergies - no problem
Return transport from Toulouse included
HIGHLIGHTS
Live, work and study with Laurel Halo for five days in the epic Pyrenean mountains
Develop your critical listening skills through group listening and critique sessions
Create new work to concept, including scoring silent films, through one-to-one and group sessions
Unlimited use of our recording facilities, editing suites, arts library and performance spaces
Optional outdoors activities including ascent of Mont Ceint, and the spectacular Cascade d'Ars
BOOK NOW
Laurel Halo

is an electronic musician originally from Michigan, USA but based in Berlin. She has released music in a variety of styles, ranging from ambient and experimental club, to avant-pop and dubwise electronica. Though the breadth of genre is varied, there's an intrinsic logic to Halo's aesthetic, focussed on the interplay between digital and analog production techniques, and the general subversion of standard sonic hierarchies. She has released on labels such as Honest Jon's, Latency, Livity Sound and, most notably, Hyperdub; her debut album Quarantine was named Wire Magazine's album of the year. She has collaborated with Oneohtrix Point Never, John Cale, Lisa Gerrard, Eli Keszler, Rashad Becker, Julia Holter and NH'Koxyen amongst others.
Soundtrack composition has also formed an important part of Laurel Halo's output - she composed the soundtrack for "Still Be Here", a collaborative piece featuring the Japanese virtual pop star Hatsune Miku, and scored the documentary film "Possessed" by Dutch design studio Metahaven and Rob Schroder. Radio too has played a role in Halo's output; from her early days as a college radio DJ, to being a resident on Berlin Community Radio (2014-2018) and Rinse.FM (2018), the study of genre-blending and freeform aesthetics has informed her compositional approach.
This workshop will focus on electronic composition/production, examining a wide array of writing, mixing and production approaches, sharing production techniques, discussing aesthetic strategies and listening approaches, expanding the palette of genres involved through listening and analysis, developing your work through sharing/critique sessions, and making new work through scoring for silent films, working against text, and other writing-to-concept exercises.
You'll end the workshop having expanded your range of critical listening skills, learnt new technological approaches and new kit, honed your compositional approach, widened your awareness of influential movements and factors, developed your existing musical practice and composed new work.
Following your five days with Laurel Halo at CAMP, you'll have the opportunity to release, broadcast and perform your work via our range of in-house labels, CAMP Radio, Fuse Art Space and our international network of partner organisations.
WHERE AND WHEN?
The course takes place at our residential centre in Aulus les Bains. It's two hours south of Toulouse, high in the French Pyrenees, very near the border with Spain. For detailed travel information, see the
transport
section. The course starts on Wednesday, 17/07/2019. We advise that you arrive the evening before (16/07/2019) - dinner and accommodation that night is included. The course runs for five days, ending on Sunday night. Accommodation on Sunday night is included, then we leave on Monday morning (22/07/2019). If you decide to take the minibus with us, you will be picked up in Toulouse at 6pm on 16/07/2019, and will be back in Toulouse at 11am on 22/07/2019.
HOW TO BOOK
To book your place on the course, click the button in the green section above.
You won't pay anything right now
- we'll send you a booking confirmation email with everything you need to know next. Your place is reserved without payment for three days.
You'll find a payment link in the booking confirmation email - follow the link to make a payment (either in full, or the first payment of a 6 month payment plan). In the latter case, a monthly payment plan will be put in place, so your card will be charged 1/6 of the fee today, and 1/6 each month (on the same day) for an additional 5 months. All card payments are handled by Stripe, and are extremely secure. We don't store any card data ourselves - all of this is handled securely off-site by Stripe. If you have a discount or grant code, you will be able to add it when you follow the payment link in your confirmation email.
Once you've made a payment, you'll receive another email containing your receipt, links to resources, contact information and access to our group chat to discuss the workshop with other participants.
INCLUDED IN THE COURSE FEE: SIX NIGHTS ACCOMMODATION, AND FIVE DAYS OF CLASSES AND ACTIVITIES, A COMFORTABLE PRIVATE ROOM AT CAMP, ALL MEALS - BREAKFAST AND LUNCH AT CAMP, DINNER AT AN EXCELLENT LOCAL RESTAURANT, UNLIMITED USE OF OUR RECORDING STUDIOS, EDITING SUITES, REHEARSAL STUDIOS, LIBRARY AND OTHER FACILITIES, POST-COURSE BENEFITS & SUPPORT (SEE BELOW)
NOT INCLUDED IN THE COURSE FEE: TRAVEL
STUDENT LEVEL: ALL WELCOME
EQUIPMENT REQUIRED: BRING A LAPTOP WITH YOUR PREFERRED SOFTWARE. IF YOU HAVE A PORTABLE RECORDER, BRING THAT TOO.
POST-COURSE SUPPORT: RELEASE, BROADCAST AND PERFORMANCE OPPORTUNITIES THROUGH OUR IN-HOUSE LABELS, CAMP RADIO, FUSE ART SPACE AND OUR INTERNATIONAL NETWORK OF PARTNER ORGANISATIONS