ENVIRONMENT AND SYNTHESIS WITH
MARK FELL AND CM VON HAUSSWOLFF
STARTS 2022-08-24
SIMILAR COURSES: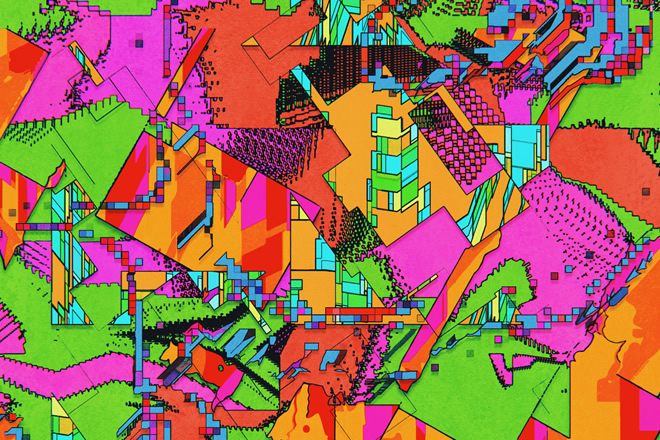 2023-06-21 | 3 PLACES LEFT
AUDIOVISUAL COLLABORATION: BUILDING & PERFORMING WITH KONX OM PAX AND HAMILL INDUSTRIES
THE BASICS
Six nights accommodation in a private room with mountain views
Five full days of teaching, workshops, discussions, activities and use of our excellent arts facilities
All inclusive - breakfast, lunch, dinner, snacks and drinks included
All dietary requirements catered for - vegetarian, vegan, gluten-free, allergies - no problem
HIGHLIGHTS
Live, work and study with Mark Fell & CM von Hausswolff in the French Pyrenees
Explore the epic mountain landscape through location recording and expeditions
Work on synthesis, analysis, production and theory in our excellent facilities
Build spatial sonic installations in the landscape using multi-speaker arrays
Broadcast, release, performance and touring opportunities after the course
Unlimited use of our recording facilities, arts library, digital editing suites and other facilities
Optional mountain expeditions including ascent of Mont Ceint and the spectacular Cascade d'Ars
BOOK NOW
Lead by two of the most influential figures working in electronic music and sound today, this workshop focuses on exploratory relationships between landscape and sound through a series of evolving performative, geometrical, time-based systems and structures. These will include location recording exercises, listening, sound synthesis, the placement of sound within the landscape, durational performances, discussion and analysis, as well as documentation of the workshop and its outcomes. Emphasis will be given to consideration of spatial audio techniques including multi-microphone and multi-speaker methodologies. We'll be working at CAMP, in the studios and recording spaces, as well as out in the epic Pyrenean landscape, in the forests, meadows, high plateaus and rocky peaks of the Pyrenees, exploring the soundscapes of rivers and lakes, glacial valleys and towering cirques.
Mark Fell

is a UK-based multidisciplinary artist. Recognised as being "one of the most compelling and influential electronic artists in the world" (South Bank Centre), his practice draws upon electronic music subcultures, experimental film, contemporary philosophy and radical politics, and typically explores issues such as time-perception, technology, cognition, and collaborative process. Over the past 30 years Fell's output has grown into a significant body of work: from early electronic sound works and recorded pieces, to installation, critical texts, curatorial projects, educational systems and choreographic performances.
In 2017 Mark curated a major exhibition of sound art for V-A-C foundation (Moscow) "The Geometry of Now", and led a British council research project to India to study Carnatic music composition and emergent electronic arts (with AC Projects Glasgow). Serralves Foundation (Porto) premiered "Intermetamorphosis" (2017), collection of works by fell which included new commissions as well as a retrospective pieces. In 2018 he completed two large scale multi-spatial sound works: "Protomusic#1" for Sage Gateshead, forming their flagship contribution to the Great Exhibition of the North; and "Frameworks" at Palazzo delle Zattere (Venice). 2019 saw two new performative pieces including "Hominin" (Rewire, Den Haag) and "Against Method" (Pirelli Hanger Bicocca, Milan), as well as the solo exhibition "The Concept of Time is Intrinsically Incoherent" (Focal Point Gallery, South End on Sea). Drawing from sacred geometries to programming structures, these works underlined Mark's particular interest in non-linear systems and structures, and our complex inter-relationships with them.
The diversity and importance of Mark's practice is reflected in the range and scale of institutions that have presented his work, including: VAC Foundation Palazzo delle Zattere (Venice), Hong Kong National Film Archive, The Baltic (Gateshead), Museu d'Art Contemporani de Barcelona, La Casa Encendida (Madrid), Laboral (XIxon), The Institute of Contemporary Art (London), Royal Festival Hall (London), The Serpentine (London), Victoria and Albert Museum (London), Whitechapel Gallery (London), The Institute of Contemporary Art (London), Barbican (London), Raven Row (London), Seville Biennale, The Australian Centre For Moving Image (Melbourne), Artists Space (NYC), Moma (NYC), Issue Project Room (NYC), Corcoran (DC), Curtis R. Priem Experimental Media and Performing Arts Center (NY), Lampo/Graham Foundation for Advanced Studies in the Fine Arts (Chicago), Zentrum fur Kunst und Medientechnologie (Karlsruhe), Pirelli Hanger Biccoca (Milan) among others. Mark's work is in the collection of the Thyssen-Bornemisza Art Contemporary (Vienna) and has as been recognised by ARS Electronica (Linz). He has worked with a number of artists including: Yasunao Tone, Laurie Spiegel, Keith Fullerton Whitman, Okkyung Lee, Luke Fowler, Peter Gidal, Terre Thaemlitz, John Chowning, Ernest Edmonds, Peter Rehberg, Oren Ambarchi, Carl Michael Von Hausswolff and Mat Steel (as SND). Mark is currently guest professor of media art at Die Staatliche Hochschule fur Gestaltung Karlsruhe (HfG).
Carl Michael von Hausswolff lives and works in Stockholm. Since the end of the 70s, von Hausswolff has worked as a composer using recording technology as his main instrument and as a visual artist using light projections, film/video and still photography as well as other media. His interests spans from social environmental issues and political statements to abstract penetration and supra/sub-reality. He has exhibited at dOCUMENTA (Kassel), the biennials in Venice, Moscow, Liverpool, Istanbul, Sarajevo etc and in Copenhagen, Stockholm, Nicosia, Kaliningrad, Tokyo, London, New York, Philadelphia, etc. His music has been played in festivals such as Sonar (Barcelona), CTM (Berlin), L'audible (Paris), el niche Aural (Mexico City), MUTEK, (Montreal) etc. and released works on record by labels like RasterNoton (Berlin), Touch (London), Laton (Wien), iDeal (Goteborg) and MonoType (Warszaw).
His audio compositions from 1979 to 1992 consist essentially of complex macromal drones with a surface of aesthetic elegance and beauty. In the early 2000's, Carl Michael boiled away even more ornamental meat from the bones, producing pure, intuitive studies of electricity, frequency functions and tonal autism within the framework of a conceptual stringent cryption. Lately he has also developed a more conceptual form of audio art overlooking subjects such as architecture and urbanism, rats and maggots. He has created a series of social platforms, places where people can meet and consume. His "Thinner- and Low Frequency Bar" was used at the Momentum biennial in Moss, Norway, Prato, Italy and London and his "Glue- (Tobacco-) and High Frequency Lounge" was used in Geneva and in Prato. These works show Hausswolff's critical view on the society's hypocritical treatment of drugs and addiction. The audience could sniff the highly toxic substances thinner and contact glue while smoking cigarettes and getting penetrated by the either low or high sine wave tones.
Carl Michael recently curated the 12th part the sound-installation FREQ_OUT in Vienna and collaborates with artist Leif Elggren, film-maker Thomas Nordanstad, EVP re-searcher Michael Esposito and recently launched new projects with composer Hans-Joachim Roedelius, composer/artist Mark Fell, musician Jim O'Rourke, author/model Leslie Winer and as Dark Morph (with Jonsi of Sigur Ros). He has earlier collaborated with Pan sonic, The Hafler Trio, Organum and PHAUSS.
WHERE AND WHEN?
0
HOW TO BOOK
To book your place on the course, click the button in the green section above.
You won't pay anything right now
- we'll send you a booking confirmation email with everything you need to know next. Your place is reserved without payment for three days.
You'll find a payment link in the booking confirmation email - follow the link to make a payment (either in full, or the first payment of a month payment plan). In the latter case, a monthly payment plan will be put in place, so your card will be charged 1/ of the fee today, and 1/ each month (on the same day) for an additional -1 months. All card payments are handled by Stripe, and are extremely secure. We don't store any card data ourselves - all of this is handled securely off-site by Stripe. If you have a discount or grant code, you will be able to add it when you follow the payment link in your confirmation email.
Once you've made a payment, you'll receive another email containing your receipt, links to resources, contact information and access to our group chat to discuss the workshop with other participants.
INCLUDED IN THE COURSE FEE: SIX NIGHTS ACCOMMODATION, AND FIVE DAYS OF CLASSES AND ACTIVITIES, A COMFORTABLE PRIVATE ROOM, ALL MEALS (ALL DIETS CATERED FOR), POST-COURSE BENEFITS & SUPPORT (SEE BELOW)
NOT INCLUDED IN THE COURSE FEE: TRAVEL
STUDENT LEVEL: ALL WELCOME, BEGINNERS TO ADVANCED
EQUIPMENT REQUIRED: IF YOU PLAY AN INSTRUMENT OR WANT TO WORK WITH SPECIFIC HARDWARE/SOFTWARE, CONSIDER BRINGING IT; OTHERWISE USE OURS.
POST-COURSE SUPPORT: GET YOUR OWN SHOW ON CAMP RADIO, PERFORMANCE AND EXHIBITION OPPORTUNITIES AT FUSE ART SPACE, RELEASE OF YOUR WORK ON OUR IN-HOUSE LABELS, TOURING OPPORTUNITIES THROUGH OUR PERTNER NETWORK.