XOIR WITH
COLIN SELF
STARTS 2022-08-17
SIMILAR COURSES: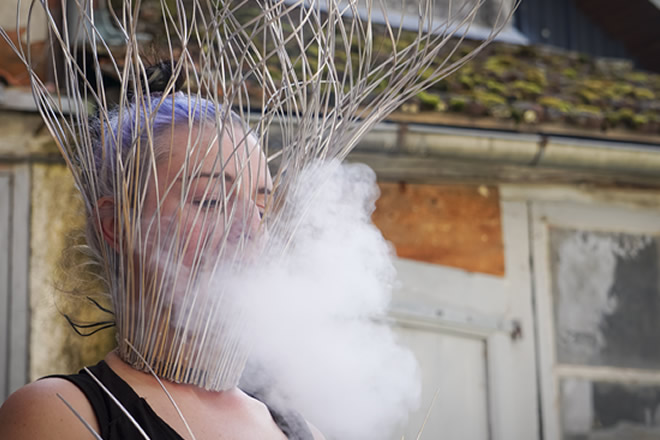 2024-08-07 | 6 PLACES LEFT
MYTHS AWAKENED; PERFORMANCE AND COLLABORATIVE EXPLORATION OF THE SELF WITH ARRAY COLLECTIVE
THE BASICS
Six nights accommodation in a private room with mountain views
Five full days of teaching, workshops, discussions, activities and use of our excellent arts facilities
All inclusive - breakfast, lunch, dinner, snacks and drinks included
HIGHLIGHTS
Explore the use of your voice to find a new relationship to singing and listening
Five days of theoretical and practical talks, discussions, listening, singing and connection with voice and vocality
Re-examine how you relate to your own voice and sonic surroundings
Unlimited use of our recording facilities, editing suites, arts library and performance spaces
Optional outdoors activities including ascent of Mont Ceint, and the spectacular Cascade d'Ars
BOOK NOW
XOIR is a non-utilitarian vocal workshop focused on alternative modalities of group singing, led by artist, composer, performer and choreographer
Colin Self

. Rooted in somatic research and experimentation, the goal of XOIR is to foster a generative environment for individuals to connect with voice and vocality on an individual and collective level. XOIR is open to anyone interested in exploring their voice as a tool for learning or re-posturing a new relationship to singing and listening. Prior participation in choral or vocal practices is not required, but any prior experience with listening and engaging experimentally in a musical or studio practice is encouraged.
Day 1: Anne Carson and The Gender of Sound
Starting with Ann Carson's essay "The Gender of Sound" from her seminal book Glass, Irony, and God, this session is focused on developing an entry point for participating in XOIR through a politics of listening. Carson's essay outlines how systems of domination and power translate to how we hear and categorize all voices, including our own. The use, identification, and permission of vocality has been shaped over time by these forces and demands a re-examination of how we relate to our own voice and the surrounding sounds.
Day 2: Dr. Bessel Van Der Volk's The Body Keeps The Score: Brain, Mind, and Body in the Healing of Trauma
For the second section of this program, I would like to connect an awareness of how dominant modalities of measured hearing (or a body politic of shame and guilt, especially amongst minorities) relates to a kinesthetic awareness of the central nervous system. The Vagus Nerve (or 10th cranial nerve) is the only parasympathetic nervous system that runs from the brain through the throat, down through the stomach and vital organs, and is greatly regulated by breath and voice. Primarily responsible for controlling the adrenal system, the Vagus Nerve and its functions point to an interdependent bodily relation to processing trauma.
Day 3: Jon Lindblom, Mark Fisher, and Ursula K Le Guin on Critical Imagination
For the third section of this program, I wanted to tie these two previous points of interest toward the writing of Jon Lindblom, who curiously extends the unfinished research of his late instructor, Mark Fisher, toward an investigation of analog practices in times of digital sovereignty. Investigating what Fisher called a "responsibilitization" of creative practices; Lindblom's writing outlines the social effects of professionalization in opposition to collectivity and experimentation.
Day 4: Hannah Hurtzig's Blackmarkets & A Pedagogy of Amateurism
For the fourth and final part of this session, I want to invite all the participants of XOIR to collectively build a curriculum of their own in response to the three points of inspiration aforementioned. Either in response to the various texts presented over the course of the first three days, or anything of interest in relation to / in distance from what we explored in days 1-3, this is an intentionally indeterminate part of the program.
Day 5: Dialogue & Public Presentation
For this final day, we will meet to begin a XOIR session with our usual initiatory practice, then engage in a group dialogue about events of the last several days. One-on-one conversations with storytelling in relation to each individual experience would finish with a conversation in-the-round with all participants. Whereas the primary function of XOIR is meant to exist without an audience, participants will be given the option to present the curriculum created in Day 4 to a public, or outdoors in a sonically resonant space.
WHERE AND WHEN?
0
HOW TO BOOK
To book your place on the course, click the button in the green section above.
You won't pay anything right now
- we'll send you a booking confirmation email with everything you need to know next. Your place is reserved without payment for three days.
You'll find a payment link in the booking confirmation email - follow the link to make a payment (either in full, or the first payment of a month payment plan). In the latter case, a monthly payment plan will be put in place, so your card will be charged 1/ of the fee today, and 1/ each month (on the same day) for an additional -1 months. All card payments are handled by Stripe, and are extremely secure. We don't store any card data ourselves - all of this is handled securely off-site by Stripe. If you have a discount or grant code, you will be able to add it when you follow the payment link in your confirmation email.
Once you've made a payment, you'll receive another email containing your receipt, links to resources, contact information and access to our group chat to discuss the workshop with other participants.
INCLUDED IN THE COURSE FEE: SIX NIGHTS ACCOMMODATION, AND FIVE DAYS OF CLASSES AND ACTIVITIES, A COMFORTABLE PRIVATE ROOM, ALL MEALS (ALL DIETS CATERED FOR), POST-COURSE BENEFITS & SUPPORT (SEE BELOW)
NOT INCLUDED IN THE COURSE FEE: TRAVEL
STUDENT LEVEL: ALL WELCOME
EQUIPMENT REQUIRED: NONE REQUIRED
POST-COURSE SUPPORT: PERFORMANCE, RECORDING AND TOURING OPPORTUNITIES AT FUSE ART SPACE AND ACROSS OUR NETWORK OF PARTNER ORGANISATIONS, BROADCAST OPPORTUNITIES ON CAMP RADIO, RELEASE OPPORTUNITIES ON OUR IN-HOUSE LABELS, ONGOING SUPPORT AND MENTORING FROM OUR TEAM.